Nordic Aqua Partners – Result for first half year 2021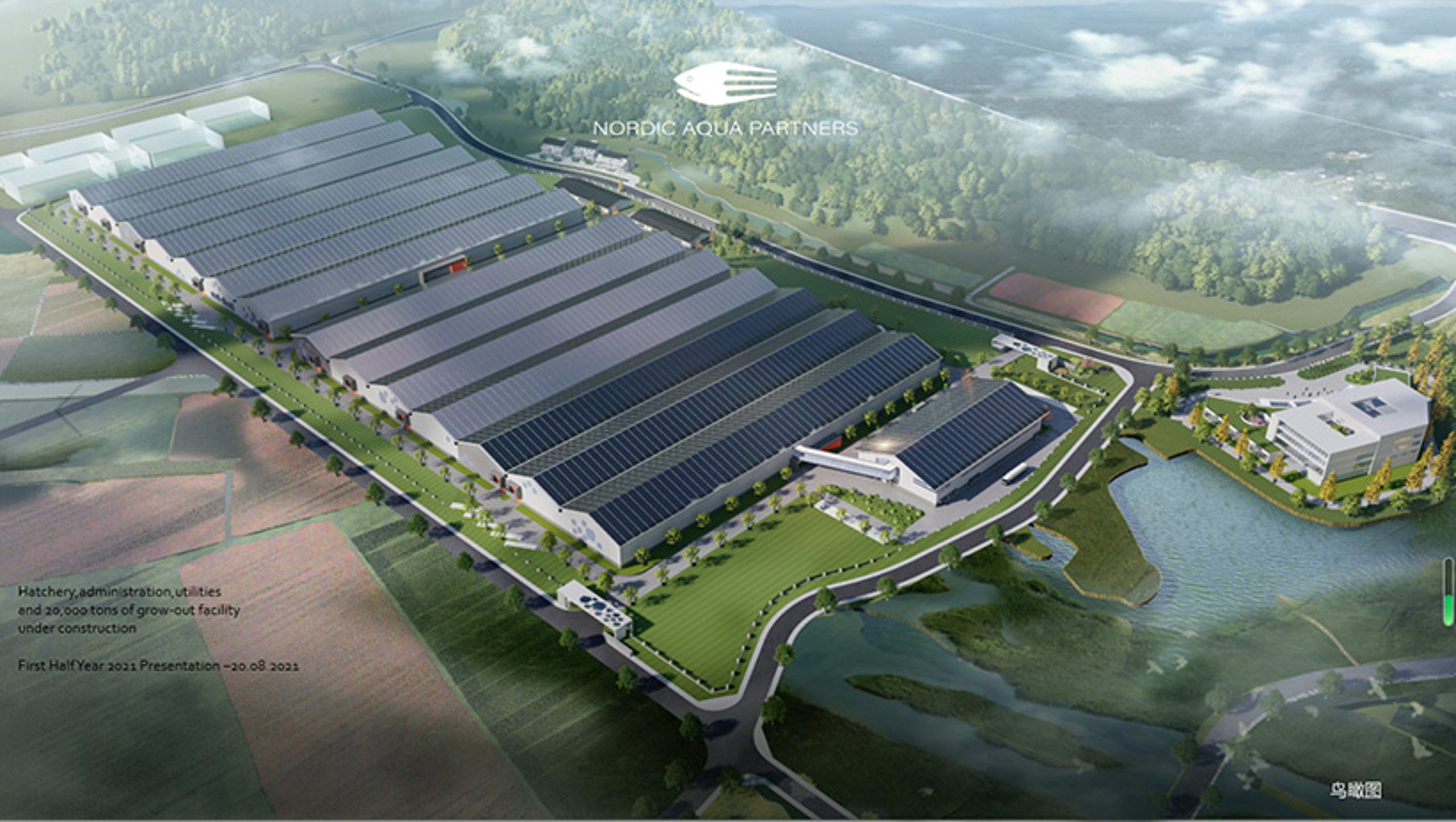 First half year highlight
● Project is developing according to plan – on time and budget. First eggs in Q4 2021 and first harvest in Q4 2023
● Upscaling of business plan to 20,000 tonnes
● Design package and site preparation completed in Q1 2021. Construction start on hatchery facility in Q2 2021
● Signed banking agreement with Bank of Ningbo for working capital facility of RMB 35 million (DKK 34 million)
● Available cash of DKK 374 million and total undrawn credit facility at EUR 25 million (DKK 186 million) as of 30.06.2021
● Signed agreement with Xiangshan Strait Economic & Technological Cooperation Co., Ltd, for a 10 + 10 years' lease of land, infrastructure and facilities
Development of Stage 1 on Gaotang Island has been running on one time and on budget since the project commenced. From April 2021, focus has been on construction start on the facility for the hatchery and RAS 1, 2 and 3. The facility will also include administration and other support functions.
In July 2021, the local authorities started construction of the hatchery according to the lease agreement. The process is well under way and on time for completion and first introduction of eggs in Q4 2021. Longyuan Construction Group Co. Ltd., 0ne of the leading construction companies in China, is the main contractor for all infrastructure, utilities, and facilities.
Total capital expenditure during the first half year was DKK 12 million, all related to AKVA Group RAS technology. Capex will gradually increase as construction accelerates. As per 30 June 2021, accumulated capex was DKK 18.5 million. At the same time, the company had available cash of DKK 374 million and total undrawn credit facility at EUR 25 million (DKK 186 million).
Throughout the planning phase, Nordic Aqua Partners has optimized the design, which allow for expansion up to 20,000 tonnes annual production on existing land, up from previously 16,000 tonnes. The local government is providing dedicated backing of the project, which has materialized in an attractive 20-year lease agreement where the government provide land area and construction of all infrastructure and building for a very attractive fixed monthly rental fee. This significantly reduces the capex risk to Nordic Aqua Partners, as any possible cost overruns on the building side is with the landlord.
The lease agreement is for an initial 8,000 tonnes, but a Letter of Intent to expand the annual capacity to reach 20,000 tonnes on current location and contracted land area is in the process of being signed. Expansion is expected to be done at similar lease terms as Stage 1 and 2.
During the quarter, Nordic Aqua Partners signed a banking agreement with Bank of Ningbo for working capital facility of DKK 34 million. Combined with current cash position of DKK 374 million and an undrawn debt facility of DKK 186 million, the company is fully funded to reach 4,000 tonnes, and expects that cash flow from operations and new debt will be sufficient to bring production up to 8,000 tonnes.
Commenting on the development, Chairman Ragnar Joensen, said:
"It is exciting to see the quick pace of development at the construction site in Gaotang Island, which really kicked off in July. We are very happy with the dedicated support shown by local authorities, which have delivered on time and with a committed interest in ensuring steady progress. The Letter of Intent under negotiation for expansion of the leasing agreement means that we potentially have funded 30-40% of total capex for growth up to 20,000 tonnes. That puts us in a unique position to deliver fresh salmon to the Chinese market in 2023", says Joensen.
Outlook
Nordic Aqua Partners secured the necessary equity funding for expansion up to 8,000 tonnes when the company was listed in Q4 2020. The project has been progressing on time since inception, and first eggs are expected to be introduced in Q4 2021. With a two-year production cycle, that allows for first harvest first harvest in Q4 2023.
The organization now counts 15 employees, and the company continues to recruit both foreign and local expertise, management and staff to fill the many positions needed to meet our ambitious expansion and development plans.
As a local farmer of Atlantic salmon in the Chinese market, Nordic Aqua Partners are focusing on the domestic salmon market and how that is expected to develop. The company will be able to offer sustainable and locally farmed fresh salmon on a 24/7 flexible delivery plan, with full traceability from egg to fully grown salmon, thus guaranteeing quality, food safety and freshness. It is the company's view that a locally produced salmon could achieve a premium pricing on top of the cost advantage, when considering freshness and 24/7 delivery capacity which eliminates importer risk of having to place spot orders ahead of sales being secured.
Result presentation
Nordic Aqua Partners will present its first half year 2021 results by webcast, followed by a Q&A session, on Friday, August 20, 2021, at 9:00 a.m. CEST.
The presentation and subsequent Q&A will be in English by Ragnar Joensen, Chairman Nordic Aqua Partners, Hjalti Hvítklett, CFO Nordic Aqua Partners, and Ove Nodland, CEO Nordic Aqua Ningbo.
The presentation can be accessed at www.nordicaquapartners.com, or with the following link: https://streams.eventcdn.net/nordicaquapartnersas/2021-h1/register
A recorded version of the presentation can be found on the following link: https://cloud.livehouseeurope.com/index.php/s/FNQO7pmLcYCqff3
For further information please contact:
Hjalti Hvítklett, CFO Nordic Aqua Partners hjalti@nordicaquapartners.com +298 221222
About Nordic Aqua Partners
Nordic Aqua Partners is a Nordic land-based salmon farming company, using cutting-edge Nordic technology and expertise to set up the first fully integrated and commercially scaled Recirculating Aquaculture System [RAS] farm for Atlantic salmon located in Ningbo, China. With operations in place, the Nordic Aqua Partners will be the first local producer of truly sustainable salmon to the Chinese market, positioned to deliver fresh and locally farmed Atlantic salmon. The current business plan is for an annual production of 20,000 tonnes HOG.
Nordic Aqua Partners A/S is listed at Euronext Growth under the ticker NOAP.
To learn more, please visit http://www.nordicaquapartners.com
This information is subject to the disclosure requirements pursuant to section 5-12 of the Norwegian Securities Trading Act.